VPN Setup on router: TP-Link WR-340G

1. Open the router's web configuration page and log in as admin. Default IP address of router is 192.168.1.1.
2. Download the latest firmware version V5 and install it on the router
3. At the HOME screen choose "Basic Settings -> Network -> WAN".
4. In "WAN Settings" part choose option "WAN Connection Type" and then choose option "PPTP".
5. Fill your VPN01 Username and Password.
6. Then choose "Dynamic IP" and fill the VPN server hostname & IP address. All other values should stay at default values. (See Server Addresses Below)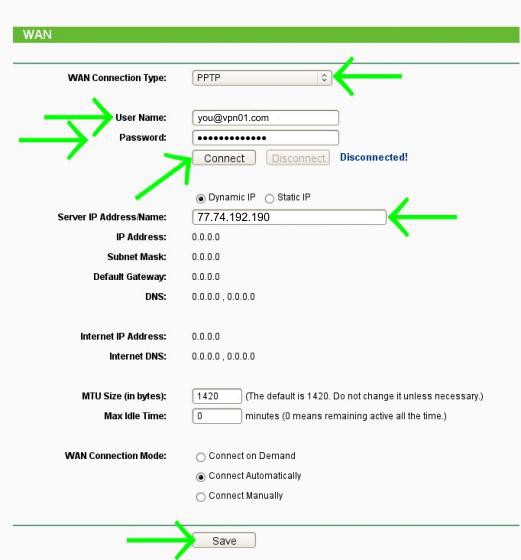 OUR VPN SERVER LIST
SELECT A UK SERVER FOR UK TV APPS & SERVICES, A US SERVER FOR US
TV APPS AND SERVICES AND THE P2P SERVER FOR DOWNLOADING TORRENTS

uk1.vpn01.net (London, GBR)
uk2.vpn01.net (London, GBR)
uk3.vpn01.net (London, GBR)
uk4.vpn01.net (Hampshire, GBR)
uk5.vpn01.net (Hampshire, GBR)
uk6.vpn01.net (Hampshire, GBR)
us1.vpn01.net (NYC, USA)
us2.vpn01.net (NYC, USA)
us3.vpn01.net (Los Angeles, USA)
us4.vpn01.net (Denver, USA)
us5.vpn01.net (Dallas, USA)
us6.vpn01.net (Chicago, USA)
ca1.vpn01.net (Toronto, Canada)
se1.vpn01.net (Stockholm, Sweden)
nl1.vpn01.net (Amsterdam, Holland)
de1.vpn01.net (Frankfurt, Germany)
sk1.vpn01.net (Bratislava, Slovakia)
il1.vpn01.net (Tel-Aviv, Israel)
p2p.vpn01.net (Torrent Server)


ONLY DOWNLOAD TORRENTS WHEN CONNECTED TO OUR P2P SERVER
Any questions regarding set up, please contact our support staff support@vpn01.com