VPN SETUP ON iOS (iPAD & iPHONE)
THERE ARE 2 OPTIONS FOR iOS INSTALLATION, EITHER USE THE MANUAL INSTALLATION INSTRUCTIONS BELOW OR LOG IN AND GO TO SERVICES>>MY SERVICES>>MANAGE PRODUCT AND THEN CLICK ON YOUR VPN ACCOUNT AND CLICK "DOWNLOAD VPN CONNECTION" FOR AUTO INSTALLER (CLICK HERE)


MANUAL iOS VPN SETUP
1. Open "Settings" on your iPhone.
2.Click on "General".
3. Click on "Network".
4. Click on "VPN".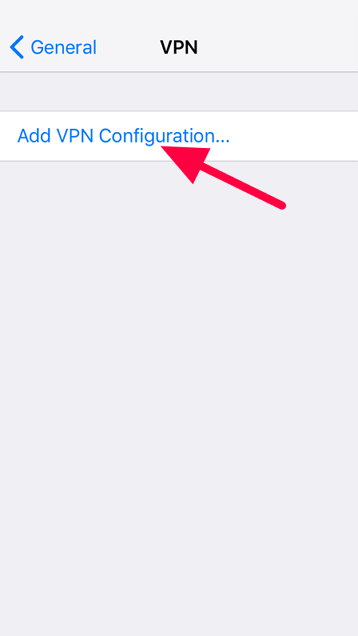 5.Click on "Add VPN Configuration".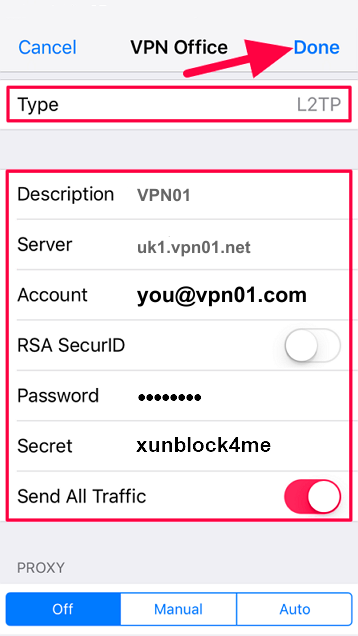 6. You are now in the VPN configuration window. First select L2TP as the connection method and enter a VPN Description name, this can be anything (eg. British VPN).
Now enter the VPN server of your choice in the server section, then enter your VPN username in account (remember to have @vpn01.com at the end of it), keep RSA switched off and enter your VPN password.
In secret enter xunblock4me and then finally press done.
Tooltip: If ever given the option to "send all traffic via VPN", do so.
7. Your VPN settings is now ready. Now you can switch "ON" your VPN connection. To switch VPN off at any time, simply go back into VPN in settings and switch off using the slider switch.
OUR VPN SERVER LIST
SELECT A UK SERVER FOR UK TV APPS & SERVICES, A US SERVER FOR US TV APPS AND SERVICES AND THE P2P SERVER FOR DOWNLOADING TORRENTS

uk1.vpn01.net (London, GBR)
uk2.vpn01.net (London, GBR)
uk3.vpn01.net (London, GBR)
uk4.vpn01.net (Hampshire, GBR)
uk5.vpn01.net (Hampshire, GBR)
uk6.vpn01.net (Hampshire, GBR)
uk7.vpn01.net (Coventry, GBR)

us1.vpn01.net (NYC, USA)
us2.vpn01.net (NYC, USA)
us3.vpn01.net (Los Angeles, USA)
us4.vpn01.net (Denver, USA)
us5.vpn01.net (Dallas, USA)
us6.vpn01.net (Chicago, USA)
ca1.vpn01.net (Toronto, Canada)
se1.vpn01.net (Stockholm, Sweden)
nl1.vpn01.net (Amsterdam, Holland)
de1.vpn01.net (Frankfurt, Germany)
sk1.vpn01.net (Bratislava, Slovakia)
il1.vpn01.net (Tel-Aviv, Israel)
p2p.vpn01.net (Torrent Server)
FOR DEDICATED STATIC IP UK VPN CUSTOMERS, PLEASE USE THE BELOW SERVER ADDRESS
staticuk1.vpn01.net (London, GBR)

ONLY DOWNLOAD TORRENTS WHEN CONNECTED TO OUR P2P SERVER
iOS TV APPS TO DOWNLOAD (WHEN CONNECTED TO A UK/USA VPN SERVER)
BRITISH TV LINKS (iPhone / iPad)
http://itunes.apple.com/gb/app/bbc-iplayer/id416580485?mt=8 (BBC)
http://itunes.apple.com/gb/app/itv-player/id446079916?mt=8 (ITV)
http://itunes.apple.com/gb/app/4od-catch-up/id432494037?mt=8 (4oD)
http://itunes.apple.com/gb/app/demand-5/id456000021?mt=8 (Demand 5)
http://itunes.apple.com/gb/app/sky-go/id446086440?mt=8 (Sky)
AMERICAN TV LINKS (iPhone / iPad)
http://itunes.apple.com/us/app/nbc/id442839435?mt=8
http://itunes.apple.com/us/app/abc-player/id364191819?mt=8
http://itunes.apple.com/us/app/pbs/id410053365?mt=8
http://itunes.apple.com/us/app/the-cw-full-episodes/id445551370?mt=8